The clipper South Australian met her fate on 14th February 1889 near Lundy in the Bristol Channel. She was built by William Pile of Sunderland in 1868 and was a 'composite' construction with an iron frame and wooden hull planking, of 1040 tons being 201ft long. The most famous surviving composite built clipper is the Cutty Sark.
The South Australian traded on the England – Australia run from the time of her launching until 1887 carrying cargo and passengers, many of whom were emigrants. In 1887 she was sold to William Woodside of Belfast and operated principally as a cargo vessel, making voyages to India and New Brunswick under the command of Captain James Arthurs.
In 1986 a pile of railway lines in the approximate shape of a ship was discovered in 42m in the Bristol Channel by divers from Ilfracombe & North Devon Sub Aqua Club. This is the story of the identification of this historic shipwreck and the plans for future diving and investigation.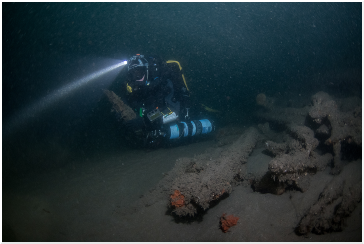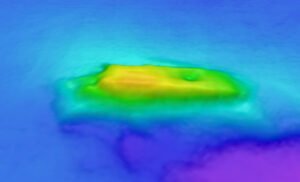 Many people and organisations have been involved in the South Australian story. Particular thanks must go to Dr Alan Platt of Saline, Dunfermline who first told us the story and suggested that we might have found the wreck site. His meticulous research and detailed knowledge made the whole identification possible. Thanks are due to the Honor Frost Foundation who have provided the funding for the geophysics survey and to the team at Wessex Archaeology who enabled us to carry it out.
Above all, thanks are due to the many members of Ilfracombe & North Devon Sub-Aqua Club who for over 50 years have maintained boats, raised funds, serviced compressors, trained in new diving techniques, struggled with wind and strong tides, drunk beer and kept up the enthusiasm for diving and underwater exploration and the means to do it.